What is X-ODOR® ?
Absorbing and Neutralizing.
X- ODOR® fabric is constructed from special yarns which contain huge amounts of micro parts on the surface of the yarn. The micro pores are an inherent feature of the carbon and natural mineral elements from which the yarn is produced. The yarns are developed from abstracts of various specific herbs, found in nature, and the minerals extracted from these herbs, offer high absorbency, wicking, and ion discharging characteristics, which have innate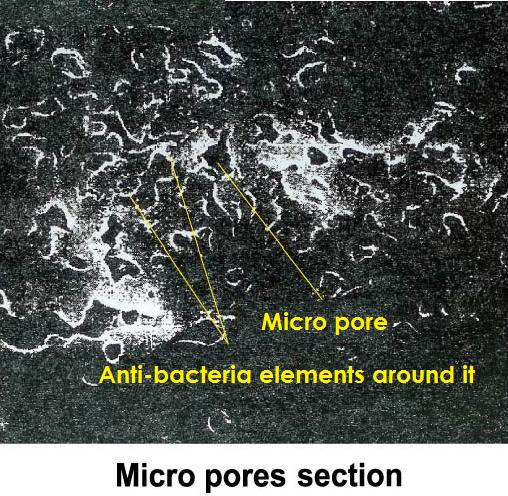 antibacterial function and significant odor absorbing and neutralizing elements.
Dry quickly
X- ODOR® yarns contain huge numbers of micro pores on the surface of yarns. This creates enormous surface area which greatly enhances the absorption of human perspiration from the surface of skin as well as the ability to quickly and efficiently spread and transfer this moisture to the outer layer of the fabric and finally when the moisture reaches the top of the surface it quickly dissipates into the air. This will naturally enhance the body's own cooling system, during extreme physical activity, and will keep you dry and comfortable all the time.
Anti-odor performance
Anti-bacteria is not equal to anti-odor. Bacteria are only one cause of body odor. Ammonia, denatured proteins, even outside environment will be the significant cause of odor in apparel and hosiery products. Incredible, the odor is absorbed and neutralized by X- ODOR® yarn very quickly. The result shows a great effect on odor reduction.
Anti-bacteria
The other main element of odor is caused by bacteria, especially Staphylococcus aureus. The natural elements found in the micro porous yarn, have been selected specifically for their ability to protectt the yarn from the growth of harmful microbes and bacteria. Because of the structure of the yarn and the moisture the body emits, the surface protection is in enhanced.
UV-protection
Depend on the fabric construction it will provide sun protection. The porous nature of X-ODOR® yarns provides full sun protection naturally. This is due to the fact that all products are yarn inherent. The natural elements which are in the filament will deflect the harmful UV rays. Testing shows the fabrics will provide Ultraviolet protection factor (UPF) of 50+ (AATCC 183-2000).
5F, No. 13, Lane 35, Jihu Road, Nei-Hu, Taipei, Taiwan, R.O.C.
力與美實業股份有限公司 版權所有 © 2009 Colotex Industrial Co., Ltd. All rights reserved.